Non Contact Thermometers MedSense Infrared Forehead and Ear Thermometer TFE02
Quick Overview
The MedSense TFE02 Forehead & Ear Thermometer is a fast and easy-to-use device, boasting instant 1 second response time, clinically proven accuracy and internal memory for 9 tests. It features...
The MedSense TFE02 Forehead & Ear Thermometer is a fast and easy-to-use device, boasting instant 1 second response time, clinically proven accuracy and internal memory for 9 tests.
It features three modes for testing ear temperature, forehead temperature and even object temperature - a handy function for testing milk bottles or bath water.
Perfect for health professionals and families with young children, the MedSense Infrared Forehead & Ear Thermometer provides accurate temperature screening that's convenient, accurate and non-invasive for babies, young children and adults.
3-in-1 Non-Contact Thermometer

The MedSense Forehead and Ear Infrared Thermometer provides parents and health professionals with an accurate and non-invasive way of testing body temperature with minimal physical contact.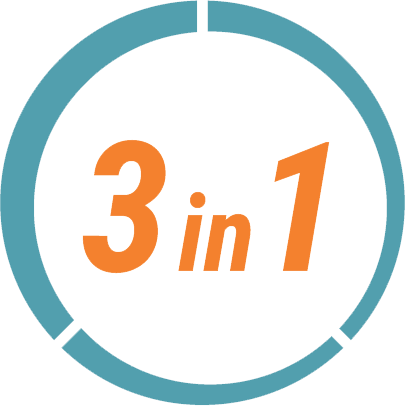 The thermometer can be used on both people and objects such as bath water temperature, feeding bottles, air temperature, and other uses around the home. Featuring 3 modes for forehead, ear, and object temperature, the MedSense thermometer is a convenient essential especially for families with babies and young children.

Measure Forehead Temperature Accurately

Aim the thermometer probe at a distance of 0 to 5mm away from the skin, right in the middle of the forehead for an accurate measurement. With the press of a button, the MedSense thermometer provides an accurate forehead temperature reading instantly.

Instant 1-Second Readings

Get a temperature reading in just 1 second after pressing the measurement button. Fast and easy to use, especially when testing multiple people.
Convenient Ear Temperature Measurement

As an ear thermometer, the MedSense is fast, gentle and easy to use. Just remove the probe cover and press the button to change modes and use the device as an ear thermometer. This is especially convenient to get a measurement from newborns, babies and young children.
The MedSense thermometer is low maintenance, too. Instead of using disposable ear tips or lens filters, the thermometer probe just needs to be cleaned gently after use to keep sharing sanitary.

The MedSense IR forehead and ear thermometer has been clinically validated for accuracy and is a precision instrument that hygienically and accurately records temperature in a safe and non-invasive manner.
The MedSense TFE02 Non-Contact Thermometer is a Class IIa Medical Device and is entered in the ARTG and also with CE. ARTG No.: 333214
Returns and Exchanges:

Healthy-Together offers a 7 day return policy, during which you are able to return your item for an exchange, refund or store credit.

1. The following requirements must be met for goods to be exchanged, refunded or credited:
a. goods must be unused and in original condition (i.e. do not let your pets use, scratch or bite the goods);
b. goods must be returned in their original packaging; and
c. goods must be received within 14 days from date of invoice.

2. If goods are deemed by Healthy-Together to be used or marked, a refund will not be processed.

3. Healthy-Together does not offer refunds for change of mind, including selection of an incorrect size by the customer, or if a pet does not wish to use a product.
Healthy-Together only offers refunds if the product is not functioning as would be reasonably expected from the information provided on the website. Healthy-Together may however offer exchanges or a store credit, when the product has been returned in its original condition and with the original packaging.

4. Please note that goods requiring return to Healthy-Together for any reason remain the responsibility of the customer, and are returned at the customers expense. As Healthy-Together does not take responsibility for a return parcel until it is delivered to us, it is suggested that you use a postal or courier service which is able to trace the whereabouts of your goods once posted and also consider suitable insurance.

5. Whether returning goods for refund, exchange or credit, first phone or email Healthy-Together to discuss the reason for return. If the good(s) are being returned for exchange, Healthy-Together will use this opportunity to check stock availability and place the good(s) you require on hold. Note that goods will be held for 7 days. If your parcel has not been received by then, the good(s) will be placed back on the shelf.

For all returns and exchanges, provided that you have met the above conditions, please send the request to our online department sales@ Healthy-Together.com.au to receive authorisation code.
NOTE: Refunds are subject to full priced items only, not sale items. Any item purchased at a reduced price during a sale is considered a sale item (this includes promotional codes).
Shipping costs are non-refundable and is the customer's sole responsibility when sending the items to our warehouse facility.
We highly recommend you use a traceable delivery method for all returns as we are not liable for any losses or damages to the product during this delivery.


Delivery

1. Unless agreed otherwise, delivery shall be made to the delivery address which you specified. Healthy-Together goods are generally delivered by Australia Post and/or courier, and may require a signature on receipt and your contact phone number. It is company policy that Healthy-Together do not post to Post Office boxes.

2. Postal addresses cannot be changed and your order cannot be cancelled once goods are dispatched. If the delivery is to your home address, it is best to ensure someone is home to receive the goods. If not, Healthy-Together recommend using an alternative, like your work address for delivery.

3. Allow 5 to 14 working days for standard delivery within Australia and New Zealand. As Healthy-Together is unable to control delivery time after dispatch, details relating to a delivery deadline shall in each case be non-binding. If your order contains back-ordered items or is made to order, the Healthy-Together team will contact you regarding expected shipping timeframes.

4. For delivery of goods too large to be send via Australia Post, Healthy-Together utilises a network of economical and reliable couriers.



Payment Information
We accept payment by: PayPal, Direct Deposit, Credit Card (via PayPal).
Direct Deposit:
Please submit your payment to:
Healthy Together
BSB: 033 047
Account number: 658548
Please indicate your name and order number in the bank deposit information at the time of payment.
Your order number will be emailed to you after you place your order.
If you do not receive an email order confirmation, please email us at info@healthy-together.com.au, or call us on 0432 260 277 - 9am to 5pm AEST, Monday to Friday.